Leading Golf Trolley Manufacturer Develops New Product in Weeks Rather Than Months
The Power of a Good Relationship & Trust – Delivering Incredible Speed to Market
Background
An Electric golf trolley manufacturer, having recognised the need for a trolley wheel that could be use in wet weather conditions, believed they had missed the opportunity of Christmas sales. This was until they unleashed the power of trust, excellent business relationships and good project management. Once unleashed, they were able to develop their vision in weeks rather than months.
A vision of the wheel was all that was available. There were no concept drawings and no design. The requirement to have wheels available for pre- Christmas sales looked certain to be missed, or so the Company thought. It wasn't unusual for the design and development of a new, innovative part to take 4 to 5 months, (including product, tool design, component testing, packaging design and first production). It was already early September and that realistically finished product was needed in 8 weeks if it was to be available for pre-Christmas sales in Europe.
The Challenge
Design the wheel
Tool
Test and approve the wheel for fit, function and durability
Manufacture
Ship 1 container
All within 8 weeks.
The Results
Through the "Power of Trust", excellent business relationships and good project management, we achieved incredible speed to market. The Customer received finished product in their European warehouse in time to make pre-Christmas sales and those of us in in China celebrated a good job done with the factory's production / assembly team.
Process Activity – how events unfolded
It was early September and the Customers designer arrived in China and as is often the case they met up with the team for dinner, which included the General Manager of a local injection moulder.
During the meal, the idea of the wheel was discussed together with the disappointment that Christmas sales would now be missed. As the evening progressed sketches were drawn on the back of paper napkins and potential manufacturing issues discussed. By the end of the evening a potential concept had been developed.
The following day the Customers CEO also arrived in China and he was presented with the previous night's concept and design work. However, there was one significant problem, technically the wheel could not be released from the tool.
The obvious questions asked by the CEO were:

How long will it take to produce component and tool designs? Produce tooling and manufacture 1 container of finished product, bearing in mind product will need to be shipped in 8 weeks if we are to achieve pre-Christmas sales?
How do we ensure the wheel is fit for purpose?
What is the cost involved?
Why would I invest in something that technically can't be tooled but you (the factory's General Manager), think you know how it might be able to work?
All the normal questions a CEO of Financial Director would ask and also straight forward to answer.
If we all work together, have a decision maker in the factory at all times, ensure all involved know this is the priority, setup clear communication links, perform tasks in parallel and trust each other's ability and judgement, we can achieve the pre- Christmas sales requirement. But we need your approval and commitment and today.
Prototype parts will be produced, either by machining plastic or rapid prototyping. This will allow fit & function tests and some basic strength tests to be performed. Where necessary we will over engineer the design and modify parts later, during the continuous improvement and cost reduction analysis process, which we undertake after all initial production runs.
A tool and product cost can be available later today.
We have all worked together for several years, our teams know, trust each other. We can make this happen if the commitment is there from the top.
Later that day costs and a project plan were approved, and work started.
A small team of key personnel were identified and briefed, headed by Charles Firbank. It was agreed the Company's Designer would remain in China for the duration of the component design stage and clear communication links and methods were put in place, enabling as close to real time decision making even though China was 7 hours in front of the Customer.
Based on the trust between all parties, the Customer's Marketing team started working on a pre-Christmas product launch.
Packaging Development
The customer supplied their initial packaging concept, a rectangular carton.
Within 24 hours a sample carton was made, and prototype wheels placed inside. An immediate problem was identified – the corners could get damaged in transit.
Without consulting the clients design authority, (due to the time difference), the carton was crudely cut and eventually became a sleeve with carry handle – see below.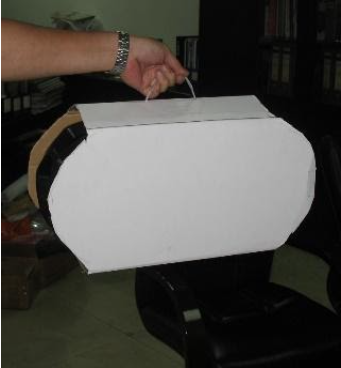 Hand Cut Carton to make A Sleeve with Carry Handle
The revised packaging, (sleeve with handle), was then shown to the Customer by video conference, allowing the concept to be approved during the call. It was agreed artwork, (to fit the sleeve), would be available within 24 hours.
When China woke the following morning, revised artwork was available. Sample sleeves were ordered, enabling the retail and outer packaging to be available before production of the wheels started.
By mid-October, the tools were finished, and 1st off-tool parts tested for fit, function & strength, (using a golf trolley and standard test equipment).
Following good initial test results from both prototype and 1st off parts, the decision was taken to start production, though testing and field trials were to continue. Using our own contacts, we were also able to test the wheels, fitted to a trolley, on a rolling road designed to test the durability of baby strollers and children's buggies.